Since 1975, the Ok Tedi mining project in the Western Province of Papua New Guinea (PNG) has caused extensive damage to the environment by discharging untreated cyanide, copper,
cadmium and substantial quantities of sediment into the surrounding river systems.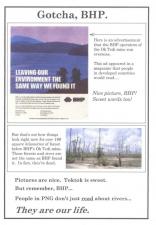 Campaign poster protesting environmental damage by BHPAs a result of this pollution the lives of thousands of villagers – people who rely on the river and adjacent lands for their subsistence – have been severely affected. A writ lodged in 1994 in the Supreme Court of Victoria by a group of these villagers alleged that Australia's largest mining company, Broken Hill Pty Co Ltd (BHP) was responsible for this pollution as the largest partner in and sole manager of the mine. The case was settled out of court in 1996, with BHP paying compensation and legal costs.
The PNG government contributed to the damage to the Fly River system by deliberately allowing the BHP-led consortium to evade the State's environmental laws.