Submitted by

Elizabeth1

on Thu, 23/10/2014 - 00:00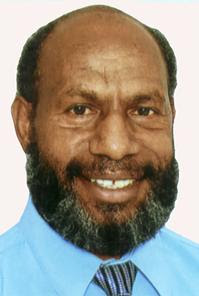 Picture: Minister Benny Allen
Source: Post Courier
No foreign company will apply for land titles under new legislation that will go before parliament, Lands Minister Benny Allan said yesterday. The Minister said this following alegations raised by the member for Moresby Northeast Labi Amaiu about a foregin owned company issuing eviction notices to people living at ATS and Eight-Mile area.
Mr Amaiu said the rapid development in the city has brought a lot of tension amoung the community, particularly at Eight-mile and ATS, and it has come to light that some foreign owned companies are collaborating with officers of the Department of Lands to take over land currently occupied by Papua New Guneans who are not given priority to have titles to the land.
Minister Allen in response said he had pit a stop to the eviction of peole and ordered for an immediate investigation in to the issue. He said portion 693, 694, 695, 696,697 and 698 are occupied by people who have built permanent houses and live there but was suprised when those people brought a letter that a company has claimed title over the land.
"This company is called Glory Estate which has already developed portion 693. But people living at portion 694 to 698 have already got notice to move out, but I said hold on, let me check first."
Mr Allen told Parliament that the company Glory Estate and pother companies that have titles over these portions are the same company but have applied under different names.
"And Papua NEw Guineans already living in those portions have already built good permanent houses. We will investigate and find out who released the title and how they got the title."
Minister Allen said a current review of the Land Act is currently underway and he intends to bring that legislation to Parliament that no foreigner or foreign company will apply for land but only Papua New Guineans.
He said ATS was formally under the agriculture leases but when there was no activity in these areas a lot of people thought it was state land so they started squatting illegally. Minister Allen said however at that time there was an ethnic clash and former Prime Minister late Bill Skate made the decision that to resolve the conflict the Oro people would settle on that land.