Submitted by

ACTNOW

on Thu, 06/10/2022 - 09:57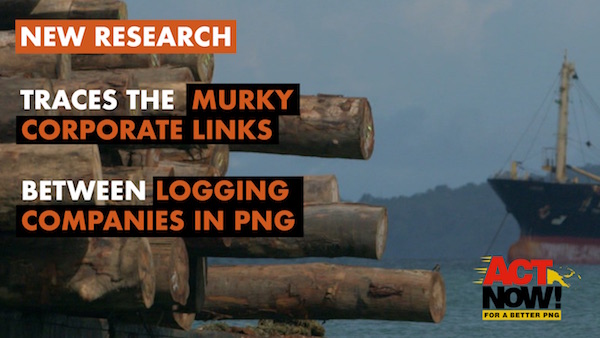 Nearly 70% of Papua New Guinea's round log exports between 2019 and 2021 were concentrated in the hands of just ten groups of companies, all with strong links to Malaysia, according to new research by Act Now! and Jubilee Australia Research Centre.
Over those three years, PNG saw a staggering 9.5 million cubic metres of round logs shipped overseas – enough logs to fill over 124,000 large shipping containers. PNG has been the world's largest exporter of tropical round logs since 2015.
Although over 80 separately registered companies were involved in the log exports from 2019-21, the research found that many of these companies are linked to each other through complex networks of directors and shareholders, making the export of logs from PNG much more concentrated than it appears.
The research found that each of the top ten log exporting groups has strong links with Malaysia, either through individual shareholders or directors who are Malaysian nationals, or links to a Malaysia-based parent company.
The Marape government has said it will put an end to round log exports by 2025 at the very latest. Despite this, the PNG Forest Authority has continued to issue new logging licences and the equivalent of 113 shipping containers of logs are leaving PNG each day. It's time for the government to rein in the Forest Authority and ensure it puts an end to the destructive round log industry.
The research highlights how complex and murky corporate structures make it difficult to work out who is responsible for logging in a particular concession area. This poses challenges for landowners who want to hold companies to account for their environmental and human rights obligations.
PNG's Forestry Act 1991 requires the PNG Forest Authority to keep a public register with information about logging concessions and the holders of logging licences. While the Act came into force more than 30 years ago, no such register has ever been put in place.
Mapping the corporate networks behind PNG's round log exports took months of painstaking research. This information is meant to be publicly available, but communities are left in the dark about who is cutting down their forests.
The logging sector in PNG has been criticised for its environmental and human rights record. In 2018, PNG's Internal Revenue Commission announced a partnership with the OECD to crack down on tax evasion in the natural resource sector and, in 2021, revealed it was auditing 20 logging companies for tax non-compliance. Yet, to date, no fines or other enforcement action have been announced. Meanwhile, the log exports continue at a rapid pace.