Submitted by

ACTNOW

on Fri, 02/09/2022 - 10:51
Payroll taxes and Goods and Services Tax (GST) make up a large proportion of the government revenue which is used to fund its Service Improvement Programs.
K10 million each year is paid to every District across the country and another K5 million per District goes to Provincial governments. Then there is a further K500,000 for every Local Level government.
Billions of Kina are distributed every year through the Service Improvement Program (SIP) and every Tax Payer in PNG has the right to know how their money is being spent.
Before the start of the recent National Elections, the Department of Implementation and Rural Development (DIRD) dropped a bombshell: it revealed that nearly all MPs (over 90%) have failed to acquit for the 2021 Provincial and District SIP fund and in many cases acquittals are still outstanding for previous years too.
Why were the outgoing MPs allowed to seek re-election without submitting their 2021 SIP grant acquittal reports?
In those electorates where the sitting member has not been returned to Parliament who will now be responsible for reporting on the funds?  Will the newly elected MPs take on responsibility and accountability for SIP expenditure for last year and the previous 4 years of the election cycle? NO! Will the outgoing MP still provide their SIP expenditure reports? NO.
Prior to the election, the Ombudsman Commission took control of the DSIP and PSIP fund disbursement to ensure compliance with the Public Finance (Management) Act. Why has he now removed this control when laws are still not being followed?
Below is the screenshot of Hon. Kessy Sawang's visit to her local DIRD to check on SIP funds for her Rai Coast District.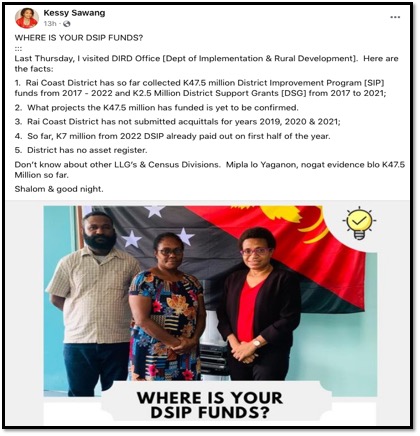 Picture Courtesy: Kessy Sawang Facebook page.
She found K7 million designated for this year, 2022, has already been used, and, she claims, there is no tangible output to show for it.
Acquittal of public funds has never been consistent and it is treacherous knowing how heavily taxed our citizens are when they see basic service improvement funds for their villages and districts disappearing with no proper record.
On the 16th of August, DIRD urged all the Districts and Provinces to do the right thing and furnish their annual returns. So far, according to their records, only Kiriku Hiri District have accounted for their former MP's Term.
If public office is for the people and the actions and conduct of those elected are to be transparent as the law demands, then making acquittal reports accessible to the public is a basic necessity.
The public has the right to know where and how their monies have been spent. Failure to Acquit Public Money is theft.
The Auditor General should be fully funded so they are able to make financial and social audits of projects within the provinces.
NO FURTHER SERVICE IMPROVEMENT PROJECT (SIP) FUNDS SHOULD BE RELEASED TO ANY DISTRICT DEVELOPMENT AUTHORITY (DDA) OR PROVINCIAL GOVERNMENT THAT IS NOT UP TO DATE WITH THEIR ACQUITTALS.